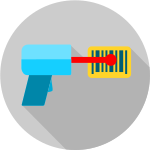 REDUCE STOCK AND PICKING ERRORS WITH BARCODE SCANNING
The sales dashboard can work with barcode scanners, to improve your booking out procedure.
Assign a primary barcode for each stock item.
Assign additional barcodes for packs or multiples of items, to help you process large quantities quickly.
You can use any FUSE approved keyboard buffer/wedge barcode scanner, or purchase them from the Live Softworks Store..